According to written reports from NBC and television reports from CNN, authorities in Manchester, England suspect that a single suicide bomber was responsible for the attack on an Ariana Grande concert at the Manchester Arena.
The indoor venue holds 21,000 people and it is believed that over 20,000 people were in attendance. The current casualty count is nineteen people dead and over fifty people injured. Some people may have been injured in the stampede of concert goers that occurred after the explosion.
ORIGINAL COVERAGE:
UPDATE 7:42 PM EST: British Transport Police confirmed the blast came from "within the foyer area of the stadium at 10.30pm this evening".
UPDATE 7:28 PM EST: "We were making our way out and when we were right by the door there was a massive explosion and everybody was screaming," Catherine Macfarlane told Reuters.
"It was a huge explosion – you could feel it in your chest. It was chaotic. Everybody was running and screaming and just trying to get out of the area."
Eyewitness Josh Elliot told the BBC he had seen a "guy covered in blood".
He said: "There was also a woman outside who looked like she had been hurt, she was on the floor."
He added: "I think what the injuries have come from is people trying to get out as quickly as possible."
He said that "massive" balloons had come down into the arena during one of Grande's songs.
"My initial reaction was for me and my friends to get on the floor," he said. "I thought it was probably just a balloon, but at the same time in situations like this you just don't know what it is and it's better to be safe than sorry."
UPDATE 7:13 PM EST:An Ariana Grande concert in Manchester in the UK has ended in violence. Reports from the concert venue say there was mass panic in the arena as an explosion shook fans as soon as the lights went up. It is uncertain at this early stage if this is related to terrorism, but the rumors of bombs and gunshots were enough to send concertgoers fleeing.
There is now an official statement.
Police statement on incident at Manchester Arena pic.twitter.com/gaKASukx9a

— G M Police (@gmpolice) May 22, 2017
Some have speculated that the bang was caused by an electrical short in a speaker.
But twitter is seizing on the panic.
EXPLOSION AT MANCHESTER ARENA AND EVERYONE RAN OUT SO SCARY😭 pic.twitter.com/pJbUBoELtE

— hannah 🐝 (@hannawwh) May 22, 2017
The chaos can be seen in this video above. Many of those in the audience are holding large balloons, which may be the source of the gunfire.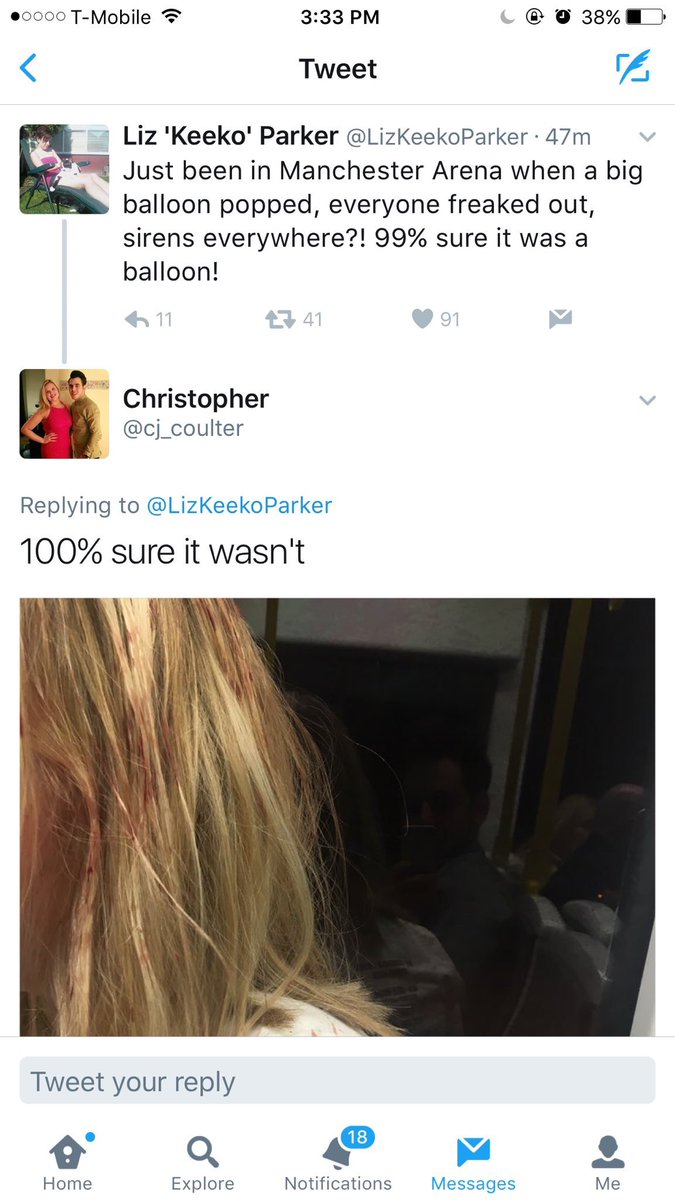 This video, though, shot from the outside of the arena captured the sound of the explosion.
If you look towards the left you see the explosion and hear the bang. I hope to GOD everyone is ok, and so glad Jess and Em are. #manchester pic.twitter.com/q81KHGEJ6E

— Joe Gregory (@JoeAaronGregory) May 22, 2017
As the fans were panicking and fleeing, law enforcement and first responders were trying to get in.
https://twitter.com/SouthLoneStar/status/866778285266567168
Witnesses describe a "massive bang," which is only helping fuel the very real concern that this might be a terrorist attack.
Greater Manchester Police have asked everyone to stay away from Manchester. We'll bring you more as more becomes available.
MORE: Reports of explosion during Ariana Grande concert at Manchester Arena https://t.co/52uCLk4Ria pic.twitter.com/VSpzc7ZDF5

— CBS News (@CBSNews) May 22, 2017